Interview with Rutherfords Micropub
Most micropubs are quirky. And we love them for it. Sure there are some bland little rooms out there. More often than not though you will find that the decent ones are quirky, the really good ones have character, and the great ones serve their gin from an antique microscope on the bar.
And why not. Ultimately with most micros being owner run, it should be an extension of themselves. And let's face it you need to be a bit of a character to take on running a micropub. For most owners their micropubs become a window to their personality. As one owner said to us their micro is what they would have liked their shed in the back garden to be (his wife wasn't too keen on that idea so he opened a micropub instead!). But that's what we want in a micropub, that feeling that you've been invited over to a mate's house for a few drinks who just happens to have an awesome pub in his back garden.
Whether it's a ceiling covered in hops, urinals made from empty kegs or the infamous stuffed partridge, we've seen a few interesting and quirky decorations in micros over the years.
So when we found out about this antique microscope on the bar at Rutherfords we just had to know more. Turns out it wasn't just for display but actually a proper gin dispensing system!
Since Debbie and Simon founded Rutherfords in 2015 as the first micropub in Scotland, they have received numerous industry awards and recognition and have gained a very loyal following. With a flair for working out what their customers want, they started developing their own gins and are now taking their clever spirit dispensing system to market. They have very kindly agreed to spend a bit of time with us to tell us more about this.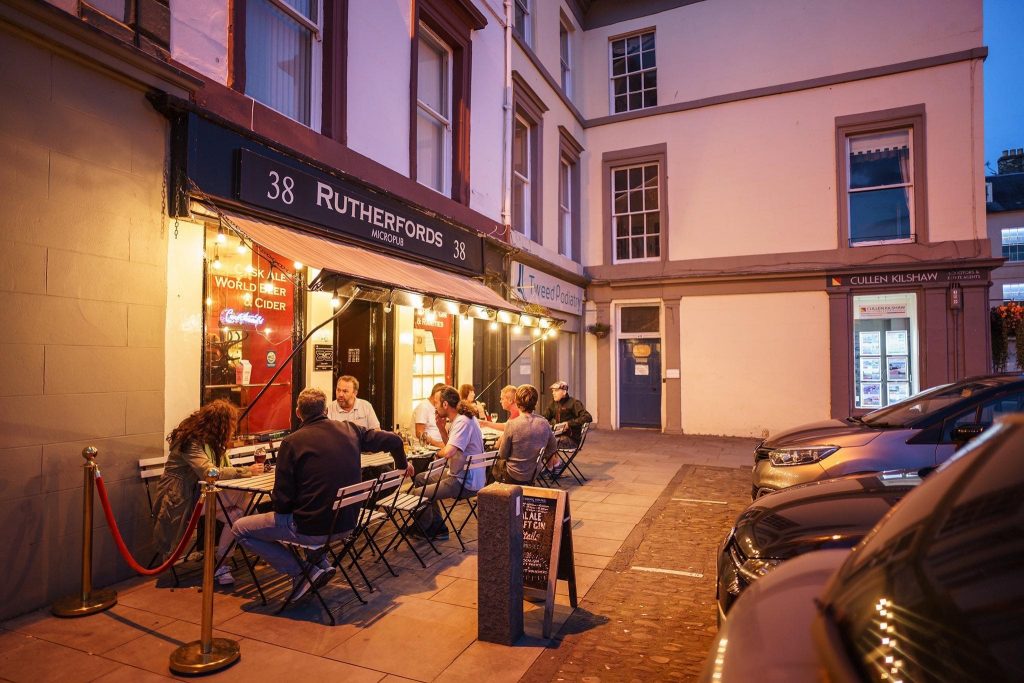 UK Micropubs: For those that have been living under a rock and don't know who or what Rutherfords is, could you tell us a bit about Rutherfords?
Rutherfords: In 2015, we were looking for a new challenge. We had visited the micropub in Berwick (The Curfew) a few times and loved the concept, the laid back atmosphere, and of course, the excellent ales. We just assumed that there must be a micropub in Scotland. There wasn't… That, to us, was exactly the 'challenge'! We set about being the very first in the country and started looking for suitable premises. Kelso is such a great Border town and the market square is the biggest in Scotland. It just seemed a perfect fit.
UKM: You've been going for nearly five years now and have gained a loyal following since. Besides the unquestionable hard work and effort you've both put into it, what would you say has been the secret of your success?
R: You're right… it's hard work! Being such a small premises with absolutely no cellar space, or even a cupboard, means we have to constantly keep on top of stock, empty casks and bottles. We've always been passionate about giving people the full 'experience', and we won't sell drinks commonly found anywhere else. We like to offer samples and tell the stories behind the drinks, which became even easier when we started making our own gins. Debbie is responsible for all the secret recipes, and she loves to speak to the customers and get their ideas and feedback. Our Haggis gin was borne from a mad idea a month before Burns night in 2018, and now it's one of our most popular gins, sometimes even mixed with Irn Bru. Like all good micropubs, we listen to our customers and we look after them too. Not everyone gets the concept of a micropub, and that's ok. There's plenty of other establishments to cater to their tastes. Getting the right staff is really important too, as the pub is so small, they are hosts, so need to be able to mix with customers whilst keeping everything running smoothly.
UKM: We are used to seeing some rather odd and quaint decorative items in micropubs, but haven't seen a microscope on a bar before. This isn't just for decorative purposes though so tell us a bit about what this microscope does?
R: Yes, our microscope is pretty unique. It dispenses gin. Rutherfords is pretty quirky, and we wanted a real centrepiece for our handmade bar. So… microscope… micropub… we just thought it went together! However, Simon is pretty confident he can make gin dispense from anything, and is currently experimenting with an armour gauntlet….
UKM: That's brilliant, so how exactly does it work?
R: It's a really compact system, as we don't have much room under the bar. To anyone walking in, it looks exactly like a microscope, and they do a 'double take'…. when they realise that we dispense gin from it, they are amazed. Hidden underneath the bar is a pressurised canister which only needs switched on for a few minutes to charge enough for a few days of constant pouring, so it's really economical and quiet. Topping up the gin is really easy, and you don't have bottles to recycle.
UKM: You've now developed this dispensing system so that other owners can use it in their own micropubs, do you sell it with the antique microscope?
R: Yes, and because the microscopes are antique, every single one will be different. Of course, as we said before, it doesn't even have to be a microscope. We're pretty inventive…the system arrives ready to go, and is really easily maintained.
UKM: You touched on it earlier but you're also designing your own gins that you've been selling under your Deliquescent brand with some rather unique flavours and quirky names. How did this come about?
R: We had a large range of 40 gins in the pub, but people were getting bored of the same old 'hints of this' and whiffs of that'. We also thought gin was taking itself a bit too seriously! So Debbie started experimenting with flavours. One of the first was Cherry Bakewell, which she describes as 'cake in your face'! Customers also told us they didn't want liqueur gins, as they wanted the full gin 'hit', so all our gins are full strength (37.5%) with the exception of Christmas Pudding, which, at 33% is a pretty strong liqueur! DeliQuescent has really taken off and we are now seen at several Farmers Markets and events, which is an area we are growing. It wasn't long before customers only wanted our brand of gin, which is all we sell now.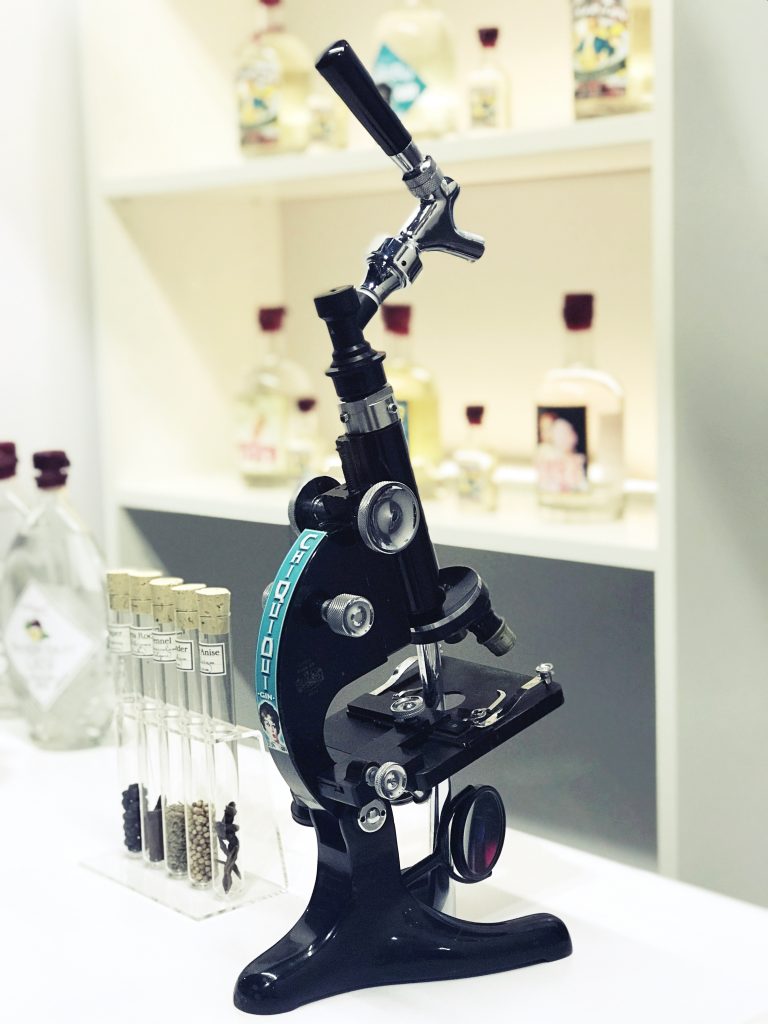 UKM: That's amazing, you've gone from 40 different gins to only selling your own! Clearly your microscope dispensing system has been popular, would you mind giving us a rough idea of what kind of impact this has made on your business? How do the sales compare to say bottles on the shelf? How do sales of spirits compare to beer?
R: It has made a massive difference to our business, as we have such a wide appeal to all different types of people. The most popular, by far, is our own lead gin, enigmatically named ChiQuiOui (pronounced Cheeky Wee!). It's a lovely, refreshing juniper led gin with hints of pink grapefruit and seville orange, but the fact that it is dispensed through the microscope really makes it especially appealing.
UKM: Some very creative and exciting innovations that's come out of Rutherfords in the last few years – are you working on anything else that we can look forward to in 2020 and beyond?
R: We certainly are! Last year we hosted the very first American Car Show event in Kelso square, with about 50 incredible American cars, a vintage village of stalls, fantastic street food and live music, as well as a Marilyn Monroe lookalike! It was a huge success, and we are planning an even bigger event this year! We have won many awards, including Visit Scotland's Scottish Thistle award for the Best Pub in The Lothians and Borders. Winning that round automatically puts us in to the final for Best Pub in Scotland, which is something we could never have dared to dream five years ago.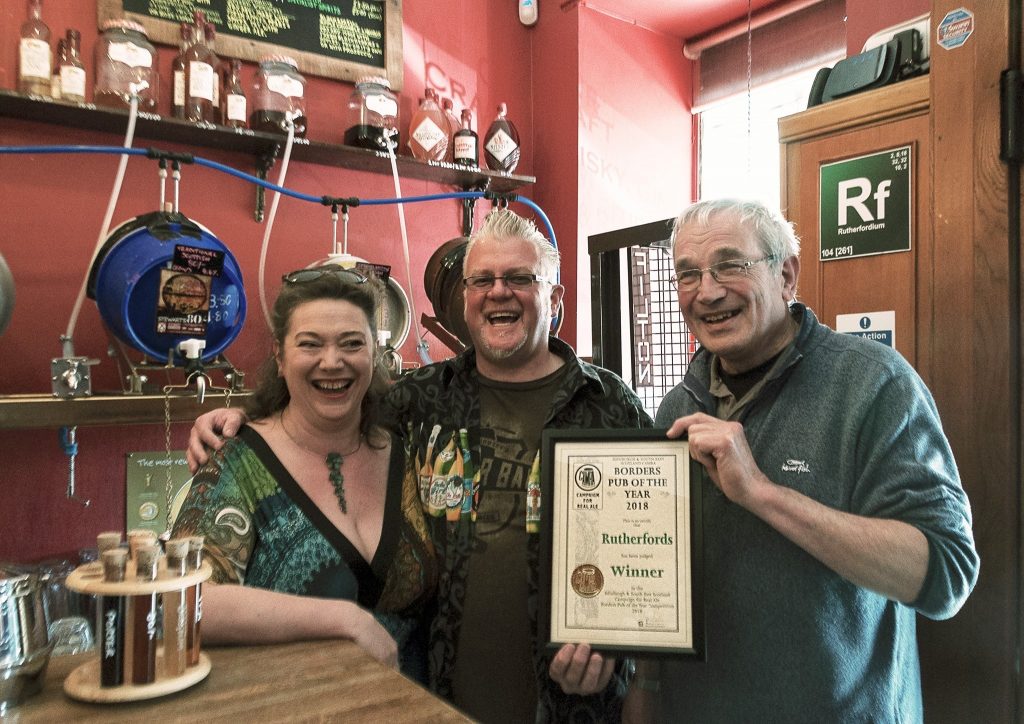 UKM: Amazing to think that a little micropub could be up for the Best Pub in Scotland! Why do you think the micropub revolution hasn't taken up in Scotland? I mean the Scots aren't known to shy away from a drink or two so you would have thought they'd love this kind of establishment. Surely they love a good ale as much as the next person so is it due to different licensing laws, geographic, something else entirely?
R: I'm really not sure to be honest…. Perhaps we were lucky with Scottish Borders Council, who were really behind the idea (once we had explained it fully!). We've obviously never had to approach a different authority, so I don't know what their reaction would have been. I know, certainly in Glasgow, Real Ale certainly isn't as popular as keg beer or lager, and, being a micropub, that's a big no-no! We do get people coming in and being really surprised that we don't do keg beer, or coke on tap, but there are plenty of other pubs who offer what we don't. We HAVE converted some folks to Real Ale, however, and they wouldn't go back now! We'd love to see more micropubs here in Scotland, and are always happy to speak to people who are considering opening one.
UKM: Where do you source your beer from? Are they mostly local breweries in Scotland or do you have to go further afield? I guess being a border town does give you some more options?
R: Yes, we're perfectly placed to be able to take beers from both sides of the Borders, which is great for variety. We also have a great supplier from quite far south who visits us about twice a year and brings some really exciting beers, including one that was made using Victoria sponge! However, having a great choice was certainly a problem when we opened…Suppliers were initially really reluctant to sell to us – perhaps because we were new, and the micropub concept was totally unheard of here in Scotland. We struck up a great relationship with our first supplier, who even helped us rack the ales for opening, and now we've got a great range of really enthusiastic suppliers.
UKM: In your eyes, what does the term "micropub" mean these days?
R: We think the term really has to keep to its original roots of being 'a small freehouse which listens to its customers, mainly serves cask ales, promotes conversation, shuns all forms of electronic entertainment and dabbles in traditional pub snacks', as this original concept really does work, and it's what makes micropubs different from other pubs. Real Ale is an absolute must. Otherwise it's not a micropub. Keeping & serving it at its optimum is crucial, and should be a passion. It's all too easy nowadays to fall in to the keg category, and that would be the death of micropubs. To be accredited as a micropub, there is no keg and NFL! (No 'fizzy' Lager). Keeping to this basic set of 'rules' has been really welcomed by our loyal customers and makes Rutherfords a really fun, relaxed environment to be in.
---
We wanted to say thank you to Debbie and Simon for taking time to talk to us – needless to say a few gins were involved in the conversation! Rutherfords for us is exactly what a micropub should be, a quirky micro, run by passionate owners who clearly listens to their customers and cares about what they serve.
Any owners interested in their unique spirit dispensing system and gins can get in contact directly with Debbie and Simon through https://www.deliquescent.co.uk/
As a little side note – I love Scotland. I really do. The people are friendly, the scenery is eye-wateringly beautiful and personally I think Edingburgh is one of the most amazing cities in the world (and would consider living there if it wasn't for the weather). I embrace most things Scottish with open arms – but Haggis Gin and Irn Bru might be a step too far for this southerner!